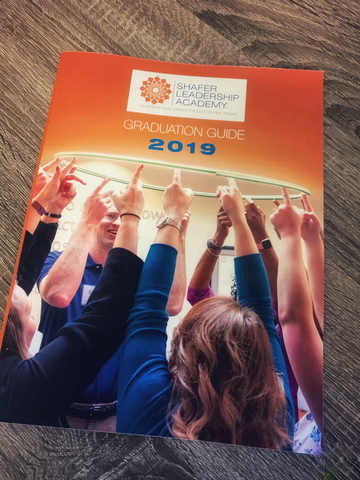 Farmhouse Creative has had a relationship with Shafer Leadership Academy for several years.  First, as neighbors and friends at the Innovation Connector.  Then as facilitators, as Matt and Angie both participated in SLA's community programs.  And finally, as clients and later, sponsors of the Gone Boss podcast.
Each year Farmhouse is pleased to help Shafer Leadership Academy with their Emergence Graduation Guide.  This guide gives graduates of the program a way to stay connected once their time together in the program ends.  SLA gives us all the participants' headshots, contact information, and candid shots from the 12-week class.  Farmhouse then designs and prints it all in a nifty printed guide that is then given to the students upon graduation.  Farmhouse loves working on this project each spring and looks forward to helping SLA for years to come.  Thanks to Shafer Leadership Academy for the great work you do to equip our local leaders.  And thanks for trusting The Farmhouse!
Ready to talk to the Farmhouse?