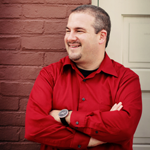 Farmhouse Creative is proud to announce the addition of Matt Howell as Vice President of Digital Marketing.
Matt brings 15+ years of Web Design & Development, Account & Project Management, and Internet Marketing experience to the already successful company that his wife started in November of 2012.
"I'm really excited to see where Angie and I can take this company. We are both committed to helping our clients achieve their business goals through effective marketing. I believe this move will not only benefit us, but all of our clients in the East Central Indiana region."
About Matt Howell
Matt Howell is married to Angie Rogers-Howell and is father to four wonderful children and is also a Grandparent. Matt and Angie reside in Farmland, Indiana in the 100+ year old family farmhouse.
Matt graduated from Monroe Central High School in 1992 and Ball State University in 1997 with a Bachelor of Arts degree in Telecommunications. After college, Matt started his professional career in communication arts as a video editor at LaBov & Beyond in Ft. Wayne, Indiana. In 1999, Matt started working as a web designer for the advertising agency, Boyden and Youngblutt in downtown Ft. Wayne.
In 2001, Matt continued his his web design career at SpinWeb in Indianapolis and Muncie reaching the Vice President position before departing in July 2010. Matt joined Fusework Studios in August 2010 as Director of Production & Account Management. In October of 2012, Matt joined the all-virtual company, ClickCore, as Account and Project Manager before joining Farmhouse Creative full-time in February 2014.