Farmhouse Creative recently launched a redesigned website for Switzer Tank Lines located in Mt. Summit, Indiana.
About Switzer Tank Lines
Switzer Tank Lines, Inc. is a for hire transporter of bulk liquid hazardous materials in interstate commerce.  They also  handle the transportation of  heavy, specialized, and packaged goods via interstate commerce.  Switzer Tank Lines also specialize in logistics management and offer freight brokerage, warehousing, transportation consulting services, and fuel management services.
The Situation
Switzer Tank Lines had an antiquated website design and needed a refresh.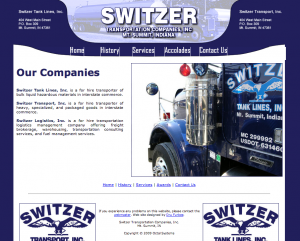 Most of the content was 'good' on the website that described their business and services. One addition that was requested was a better 'Employment' form for potential drivers to apply. Switzer Tank Lines also wanted to provide a easy way for potential clients to request a quote. Farmhouse Creative utilizes Formstack for online forms and both of these requests were fulfilled by using that form management solution.
The Results
Switzer Tank Lines now has a more search engine-friendly website with the ability to update content themselves. The updated look-and-feel now matches their brand they are trying to project to potential clients and drivers.
Angela Wiggs and her staff were great to work with throughout this website project.